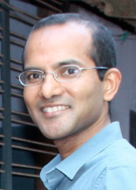 Associate Professor -- Department of Geography

Tier II Canada Research Chair in Land Use and Global Environmental Change

Earth System Science Program; Sustainability, Science, and Society Program

Global Environmental and Climate Change Center (GEC3)

627 Burnside Hall, 805 Sherbrooke Street W.
Montreal, QC, H3A 2K6, Canada
Phone: (514) 398-8428; Fax: (514) 398-7437
email: navin dot ramankutty at mcgill dot ca


My
CV

Research
The premise of my research program is that global changes in the land are an important driver of global environmental change, and has environmental consequences that are comparable to climate change. My research program aims to understand how global land use, interacting with climate change, influences ecosystems and the services they provide to human societies. My focus in recent years has been on analyzing the tradeoffs between global food production and security and the global environmental consequences of agriculture. My research team addresses questions such as: How are agricultural lands spatially distributed around the world? What kinds of crops are grown where, and why, what are their typical yields, and how much irrigation and fertilizer is applied? How are the global patterns of yield influenced by climate and land management and how might this change in the future? How much carbon is emitted to the atmosphere due to deforestation? And finally, the overarching question: How can we best manage global agriculture in order to meet the current needs of the billion people who are hungry and the future needs of 9-10 billion people while reducing agriculture's environmental footprint?

My work uses global Earth observations, global data analysis, and numerical models. I have been developing global data sets of contemporary and historical agricultural land use practices to describe the impacts of land use on global ecosystems. I have been further developing and using numerical models of the Earth's terrestrial ecosystems and agro-ecosystems to examine the environmental and food production implications of land use. In general, my work tends to be global in scale, and synthetic in nature. However, I am hoping to start some local/regional-scale projects in Canada and India.

Please visit my lab
webpage
to read more about my research program.

Education/Bio
I started as an engineer, getting a bachelor's degree in Mechanical Engineering from the P.S.G. College of Technology, in Coimbatore, India. During my final year, when memorizing the "iron-carbide diagram", I came to realize that it was not my thing. I was reading a popular book about climate change at that time, and my curiosity drove me to pursue a master's degree in Atmospheric Sciences at the University of Illinois. I arrived in the US at the age of 19, little knowing what to expect. I struggled with the new field of study in my first semester, but slowly settled down and started to discover my keenness for the topic of climate change. My M.S. research involved the use of climate models and observations over the last 150 years to identify the causes of climate change and examining the patterns of change. Over the course of my masters degree, I became increasingly concerned about the impacts of climate change on human societies. I therefore moved to the University of Wisconsin, to do a Ph.D. in Environmental Studies (with specialization in Land Resources). I dabbled in several different projects (climate change & food production, modelling global animal energetics, developing dynamic vegetation models) before settling on a PhD topic, to examine the role of human land use changes on terrestrial ecosystem functioning. I discovered my passion for working at the interface of research on climate, land use, and ecosystems during my PhD, and I continue this work today, as a professor in Geography at McGill.

Teaching
Winter Semester (Jan-Apr)
ESYS 301
(Earth System Modelling), in the Earth System Science program (team taught with Prof. Bruno Tremblay)
This is an introductory modelling class taught at the undergraduate level. Students learn to conceptualize and build models of various components of the Earth system using the Stella modelling software. The course teaches system dynamics concepts such as stocks & flows and feedbacks.


GEOG 360
(Analyzing Sustainability) in Geography (team-taught with Prof. Jeanine Rhemtulla)

This course introduces analytical approaches for dealing with challenges to sustainability. A series of case-studies, with accompanying labs, will be used to address a sustainability problem. The course will address questions such as, "Is it more sustainable to eat locally grown grain-fed meat, or organic vegetables imported from far away? If all nations decided to curtail global warming by 2°C, how much would we need to cut emissions and what are the ethically responsible ways to distribute these reductions? How can we manage trade-offs between producing food and degrading water quality? Who pays and who benefits when we create a new national park in a developing country?

Fall Semester (Sep-Dec)
GEOG 530
(Global Land and Water Resources) in Geography (team-taught with Prof. Bernhard Lehner)
This course explores the geographic distribution of our planet's land and water resources as determined by physiography and human modifications, and their potential future trends through global environmental change. Several key regional case studies will supplement the global overview
GEOG 523
(Global Ecosystems and Climate) in Geography
This course will develop an understanding of the functioning of global terrestrial ecosystems and their interactions with climate and human land use activities. It will deal with climatology, ecology, and land use change at continental-to-global scales. The course will examine the physical, chemical, and biological processes through which terrestrial ecosystems interact with climate. It will also examine the human modification of terrestrial ecosystems through land use activities such as agriculture and deforestation. You will learn how scientists use global data sets and global climate and ecosystem models to understanding the functioning of the climate-vegetation-landuse system


ESYS 500
(Earth System Applications), in the Earth System Science program (team taught with the six ESS professors)

Students in this course work on a semester-long research project. A single theme is chosen for each year, and they change based on the most current Earth system science issues. In 2006-07, the theme was "Global energy resources". In 2007-08, the theme was "Geo-engineering". Students are guided through the semester by the ESS faculty in developing their research question, identifying data sources, and working through their analysis and write-up. Students will integrate all aspects of Earth system theory, observations, and modelling while working on their project.